My entry way is really dark, like Batcave dark! I can't stand not having light and with no windows or light fixtures the solution looked pretty dim (sorry Jerm always says I think I am funnier than I really am). I have been looking around for two matching, decent looking tall lamps to place in there but I couldn't find anything forever. When the price was right the look was way off, or the ones that looked really great had a really
nice
big price. I was annoyed and believed that we would forever feel that we were coming home from a long day of solving crime (with none of the benefits like lots o money or cool gadgets) due to the entry way. The other day I finally found some lamps that had a decent look to them, I loved the simplicity, the lamp shades were a great shape, and $12.00 for the pair were at a perfect price. The downfall....lamp shades were white! I am not a fan of white, it's not a comfortable color for me or our house (we like fall pallets) So I decided I would DIY those lamps into our perfect ones!
There are two of these, but I messed up the second one a little and need to go back and fix it. Oh yeah, and that wood paneling is on the list of things I want OUT of this house!
Supplies:
Lamp shades of your choice
Base Paint color of choice (mine is Craft Smart's "Terra Cotta") bought it @ Michaels
Stencil (optional) Mine is a Martha Stuart one I bought at Home Depot
Alternate color (if using stencil) same paint but in "Wine" this time
Foam brush
Total Cost: The $12.00 I spent on the lamps, I had everything else from previous projects!
But...Paint per bottle a little over $1.00, stencil $3.99, Foam brushes $0.50 if you don't have them on hand! So the total cost of this project with out buying a lamp shade would cost about $7-$8 depending on the stencil!
Step 1:
I simply removed the lamp shade from the lamp post and set it on my work space, easy peasy right!
Step 2:
I then painted the lamp shade using the foam brush, my lamp shade had a little bit of a texture to it, so I painted against the grain. I really liked how that brought more of the texture to it. I didn't cover it evenly all the way around, you can see where it is lighter in spots. You don't have to do this, I just liked the way it looked.
Step3:
This is optional! Using a tape measure measure the lamp shade's width and length. Find the center of the lamp shade and mark it. This allows you a center to place your stencil. (you don't want it to be off center, or maybe you do! Your call!)
Step 4:
Tape the stencil down securely to where you want it. I used the blue painters tape, because it comes off well, but hold things in place.
Add the accent color by dabbing it on the stencil, be CAREFUL not too much as you see down here! Way too much, this is a picture of the one I now have to fix because I used to much paint and the lines blurred!
Finished Product!
And there it is my new lamp shade for the lamps to light up my Batcave like entry way!
I am thinking about painting the lamp poles black, just because it is a common accent color in our house, and I don't think the steel look works with all my wood furniture!
Some other ideas:
A touch of elegance
Something fun (for the kiddos maybe?)
Source
Linked up to: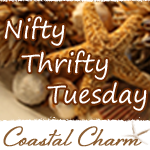 Why don't you light up my day by clicking the link below and voting for me!?!