Christmas is my favorite time of the year! I love the music, making and buying gifts that I know others will enjoy, wrapping presents, decorating, teaching my children about the reason for Christmas and just the whole feel of the season and holiday!
About 4 or 5 months ago I was at a local thrift store and I found these adorable little Christmas dessert plates! I bought them right away, even though I was wearing shorts and Christmas was still pretty far off, but they cost me only $0.50 and I figured I would find something to use them for!
After letting them gather dust for months, and then forgetting that I had them...I found them today and decided that I knew exactly what I wanted to do. I have seen these adorable DIY cakes stands made of candle sticks and plates, they inspired me. The plates were all the same size so a cake stand wouldn't work but...I could make candy dishes!!!


I still have a few a lot of black candle sticks left over from the wedding and thought that they would accent the colorful dishes, plus they were on hand and free!
I needed something to hold them together....scrounging around in my container of different adhesives I found one that I thought might work. I honestly don't know how long this will hold them but they seem to be pretty stable and it's not like I will be throwing them around or anything. I just washed the candy dishes with a soapy dish towel and will wait and see how they hold up!
I just ran a good amount of adhesive around the top edges of the candle sticks...
then placed them upside down on the bottom side of the plates. I followed the directions on the back of the adhesive and let them dry for two hours. I have picked them up by the candle stick alone, washed them with a soapy dish towel and they are still holding strong!
Now I have cute little Christmas candy dishes to display candy.....for a whole two seconds! Lets face it with four kiddos, a husband who is addicted to Reese's like it's crack, and me with my dark chocolate obsession...the candy won't last long!! Unless I buy the crappy candy...I may just buy the crappy candy!
Linked up with: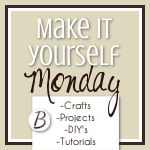 Now I know that it has been a while since I posted anything but I started a new job...hello Police Dispatcher (sorry Police Telecommunication)!!! The training hours are well....a little obnoxious and I haven't had too much free time recently. I plan on getting some more posts up soon but I just need to get them all together! So if you click that pretty link below it may just inspire me to get my butt in gear and work faster!!